At Stone Lake in Cassopolis Michigan
One of the largest (5,200 sq ft), most comfortable, and feature-filled lakefront vacation homes in Southwest Michigan—that is also wheelchair-friendly. The Blue Spruce Lodge's design incorporates over 8 years of invaluable input from Guests who have enjoyed our other Lodges at Stone Lake.
11br / 12ba

Sleeps 40

Wheelchair friendly

5200 sq ft

13 couches
12ft HD projector TV

885 sq ft Game Room

340ft of lakefrontage

Boat & dock

Sandy gentle slope beach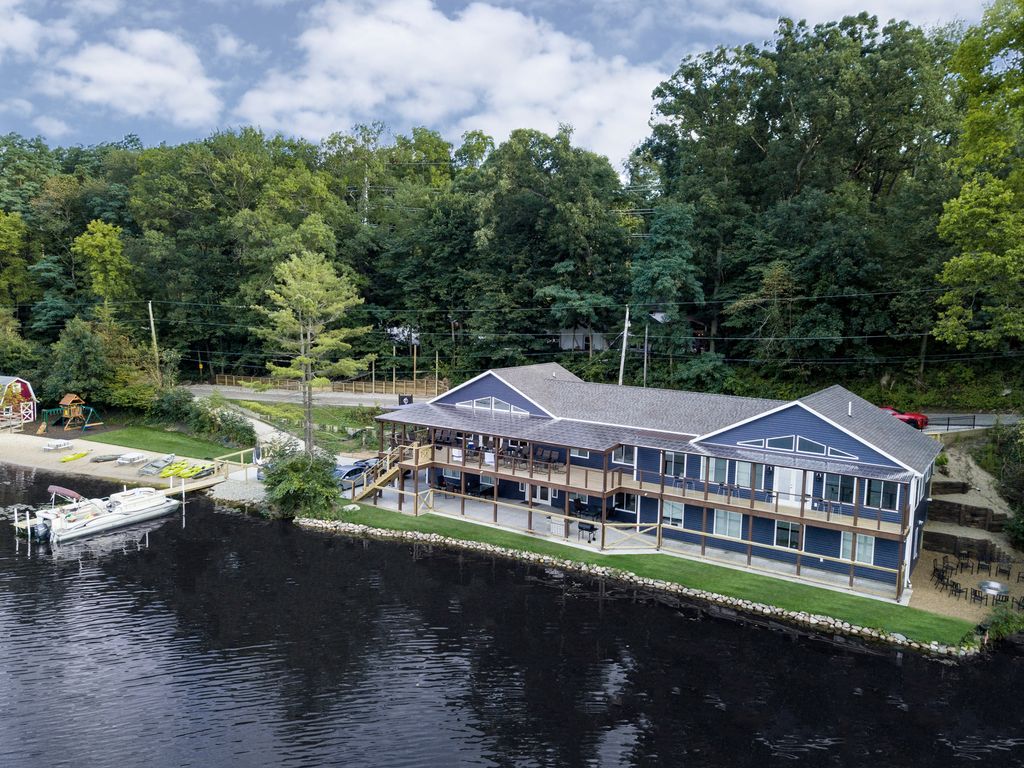 Covered Deck is 101 ft long; the gentle slope private sandy beach is 80ft long.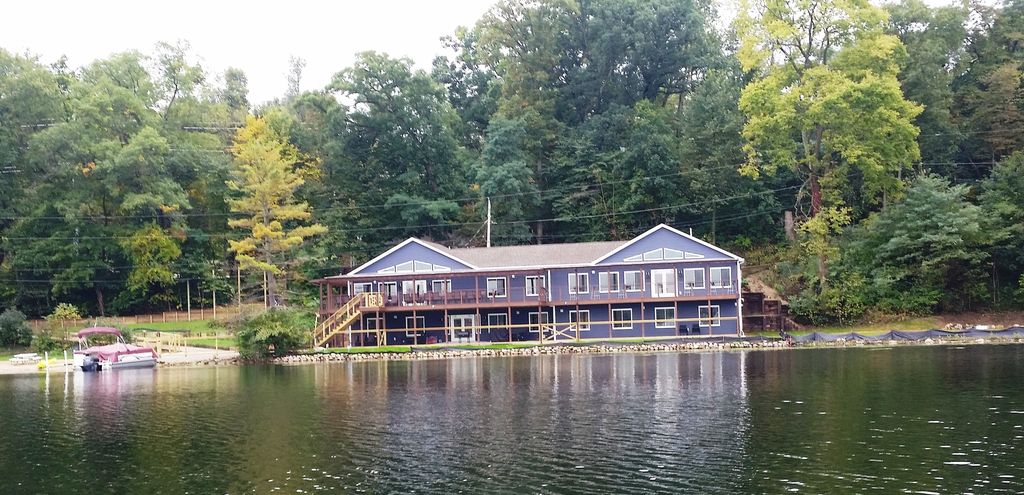 The house sits on 340 ft of lake frontage w/ beach & 2 grassy, level play areas.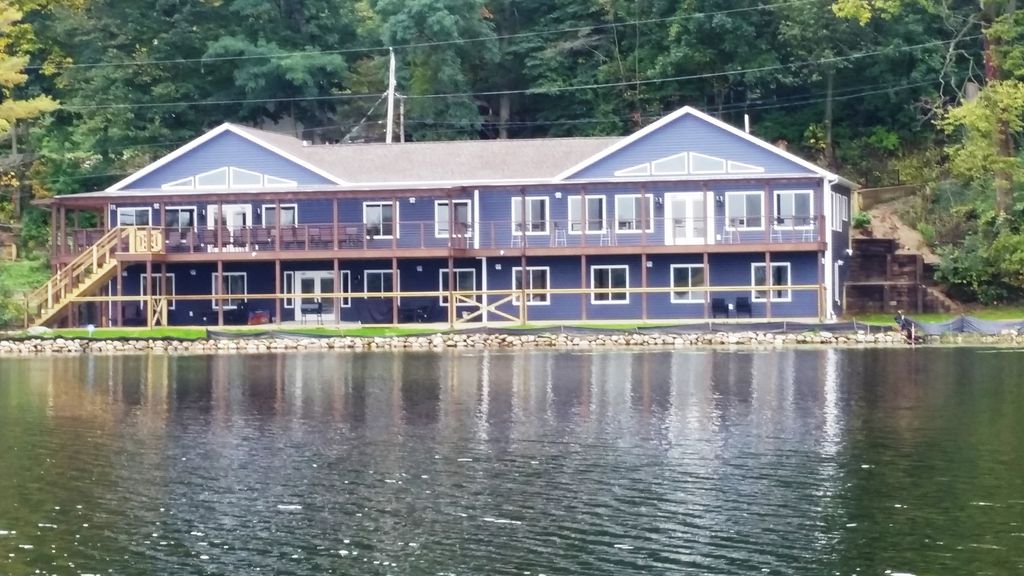 Great Room- left, Gathering-Game Room-right. Main Level is 100% Vaulted Ceiling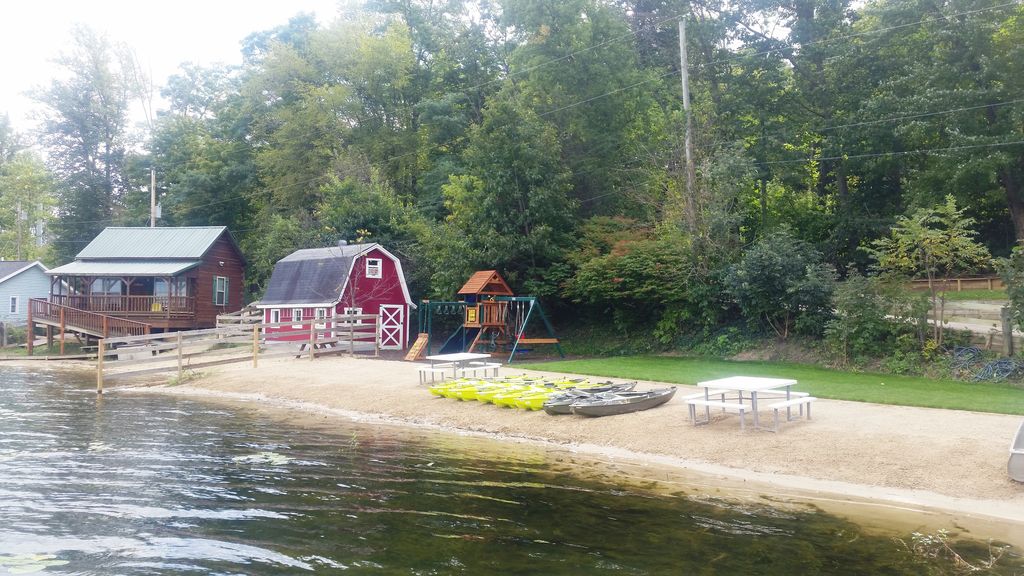 Sandy gentle-slope private beach is 80 ft long has tables; kayak racks coming!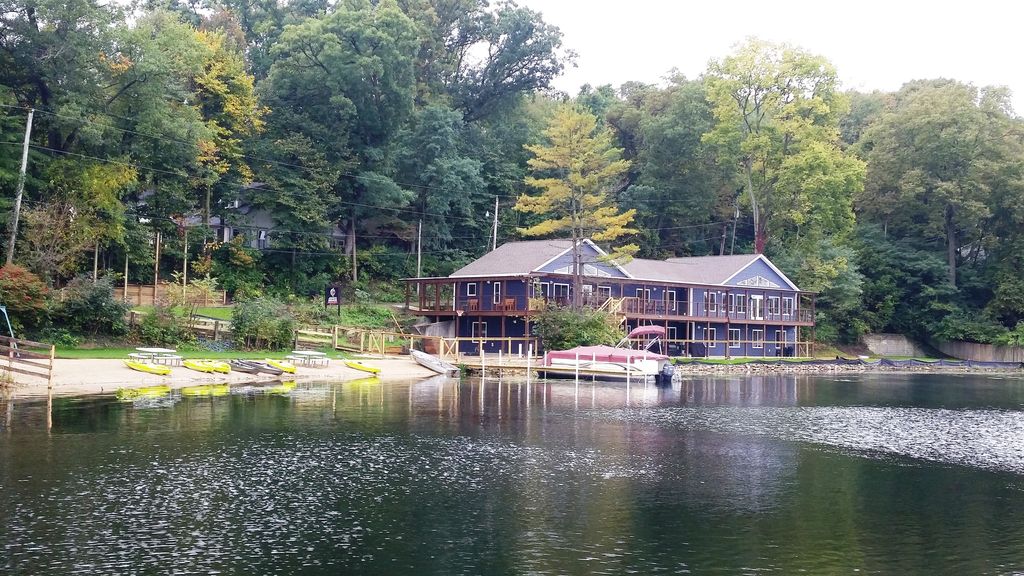 Pontoon Boat Pkg inc. 25' pontoon, 7 kayaks, row boat. Barrier-free dock access!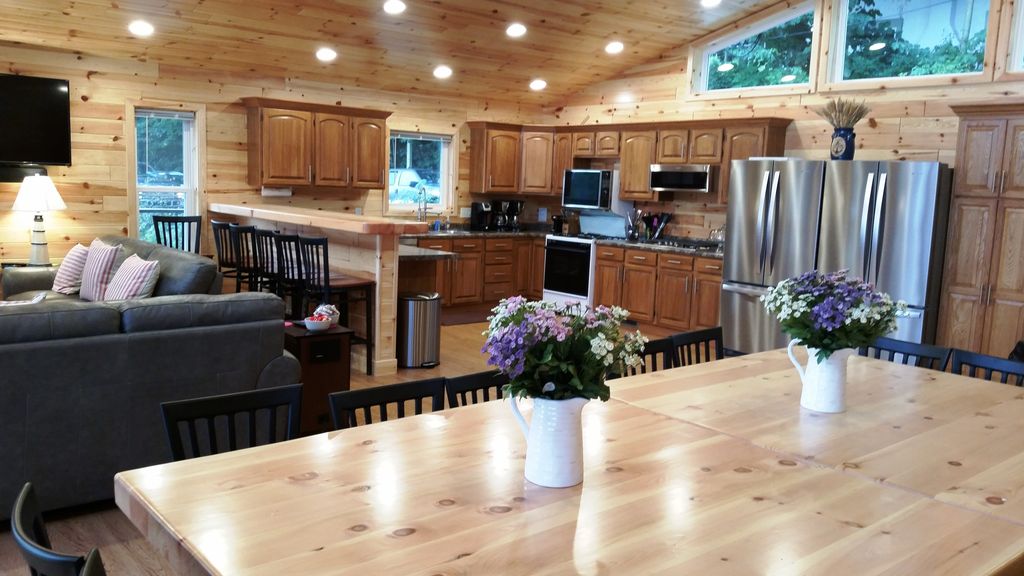 Kitchen has 2 fridges, 2 gas cooktops, 2 ovens, 2 dishwashers, microwave.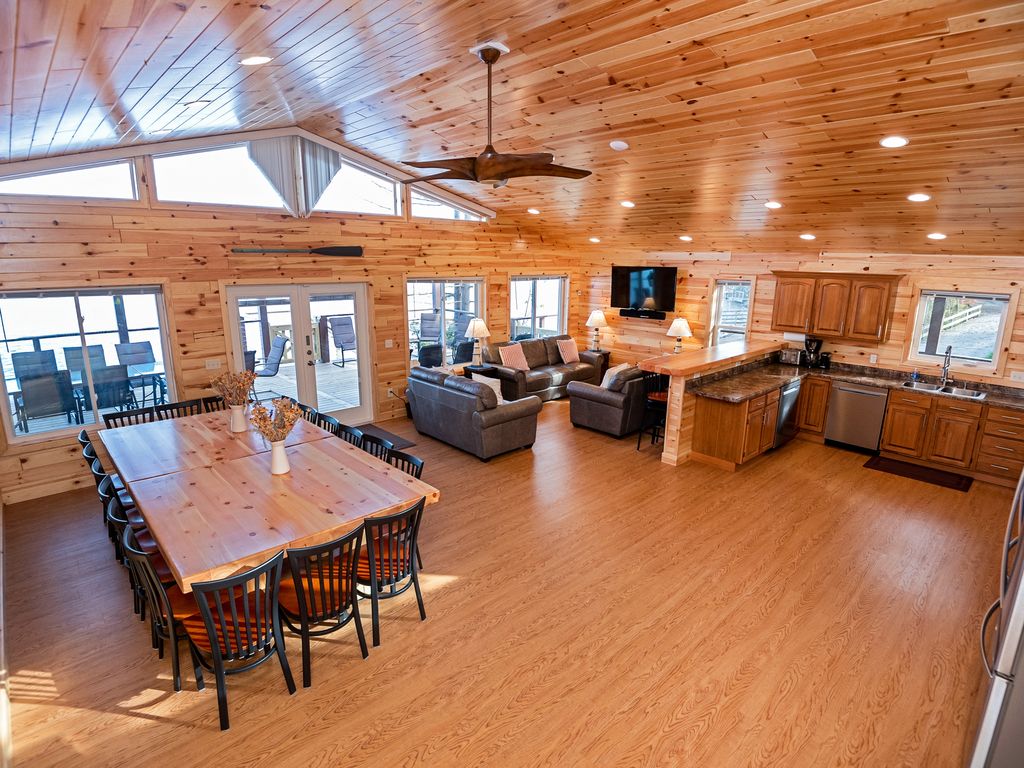 Great Room has comfy leather seating for 8 with 55" 4K TV, Yamaha soundbar.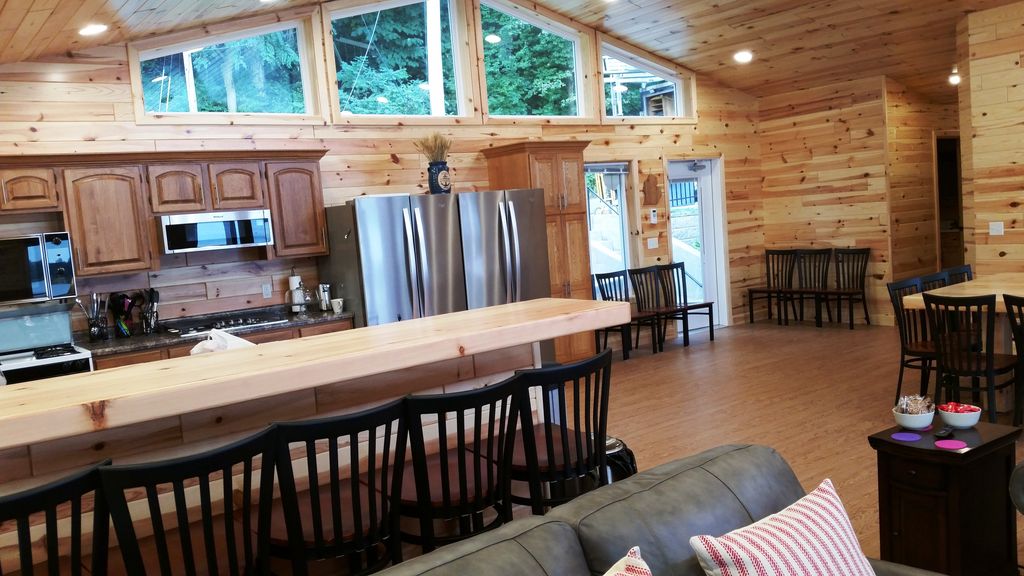 Breakfast Bar seats 6 - makes for a great spot to set up a buffet.
Great Room table opens up to seat 24. Breakfast Bar seats 6, + 8 more on sofas.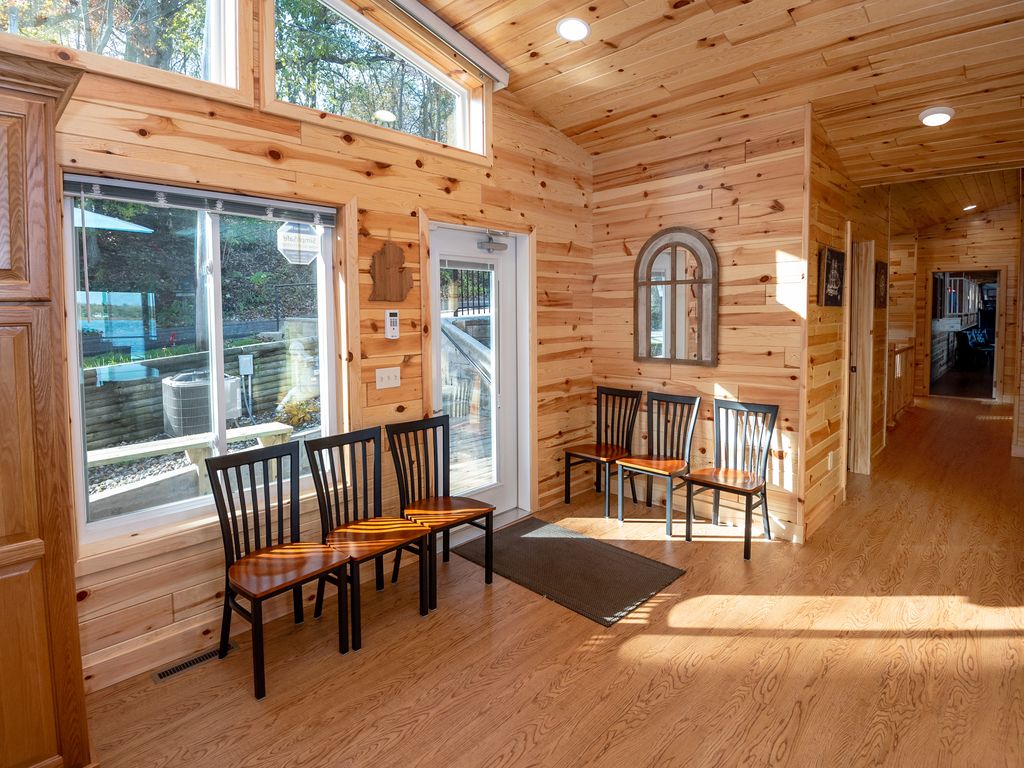 Extra dining chairs flank front entrance. Behind mirror is the 12th full BA.
Gathering-Game Rm has 7 sofas, 4 ottomans. This view is from Kid's Play Loft.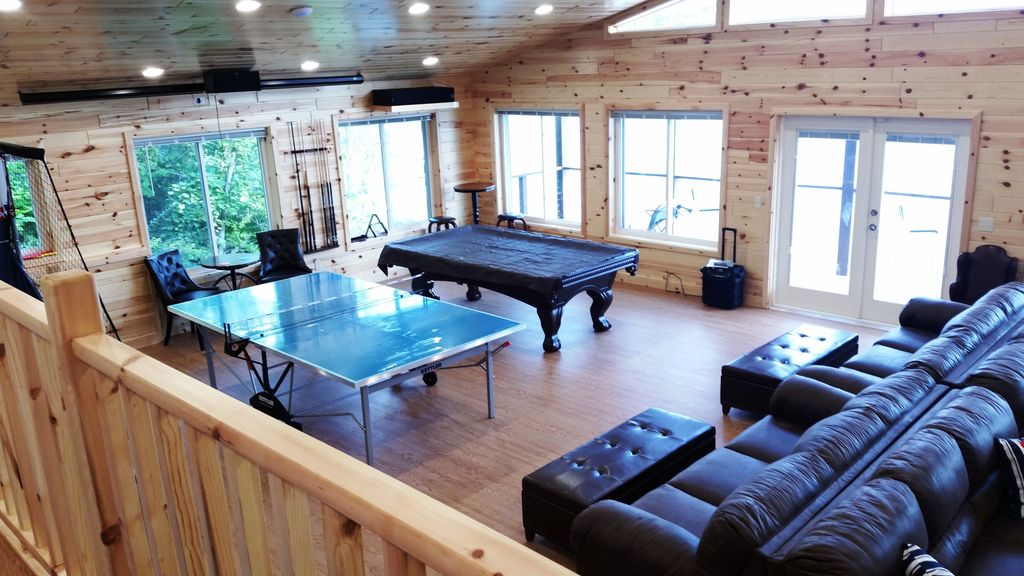 Gathering-Game Rm is 885 sq ft has ping pong & pool tables. Walk out to deck.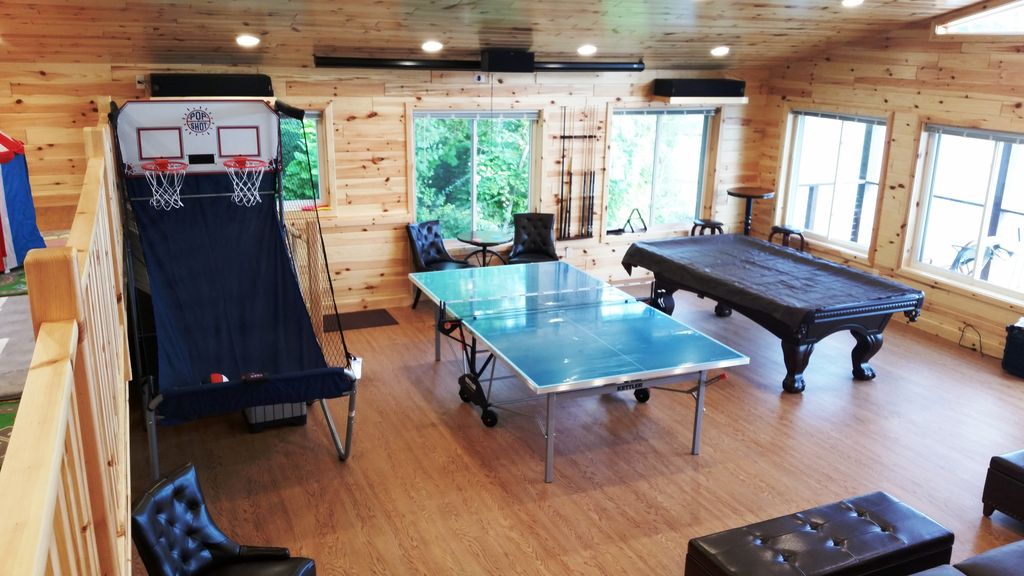 Pop-a-Shot basketball arcade game is a big hit with all age groups!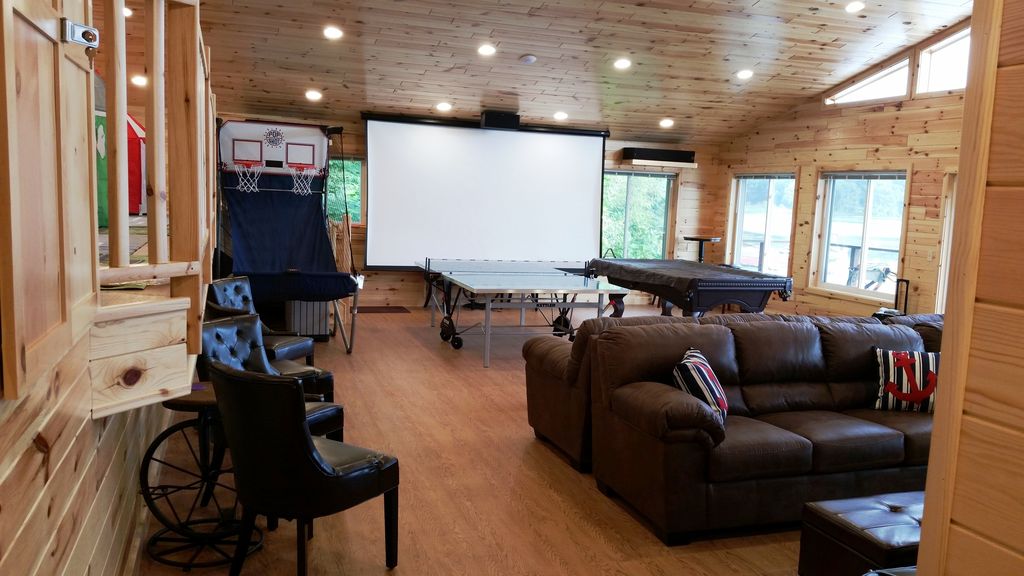 12-foot HD projector TV screen, Klipsch Surround Sound...great audio-video!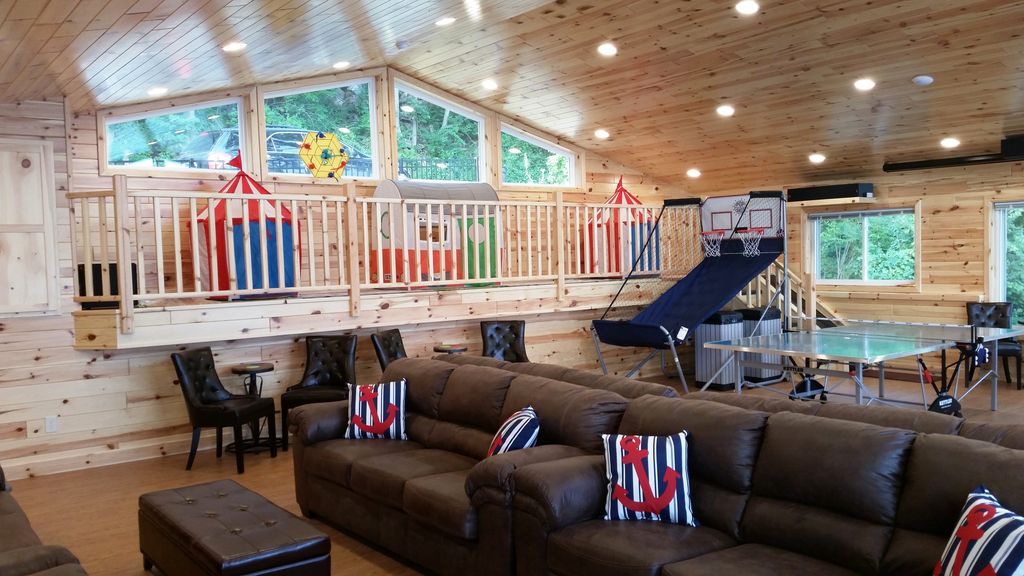 Kid's Play Loft is 29'x5' has kid's tents. The young ones have their own space!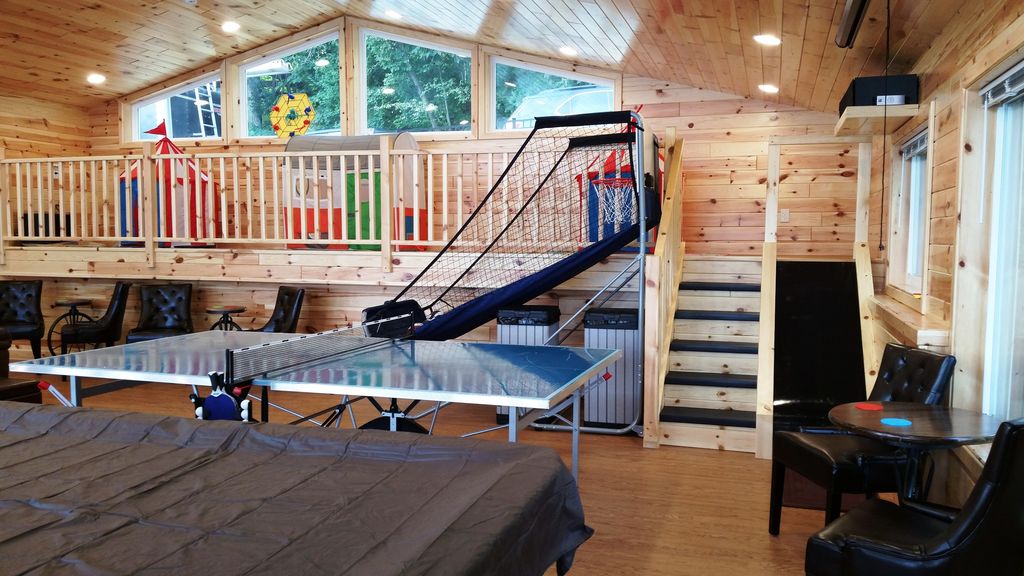 Access to the Kid's Play Loft is via staircase. Adjacent slide is a big hit!
Close-up of staircase and slide that accesses the Kid's Play Loft.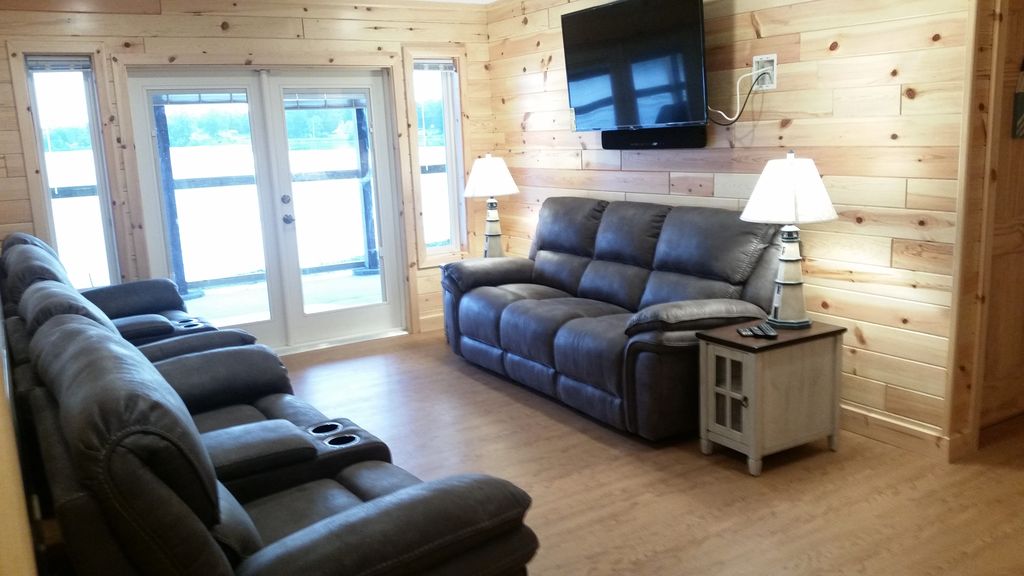 Walk-out level TV Room seats 7 w/ pwr recliners, 55" 4K TV, views of Stone Lake.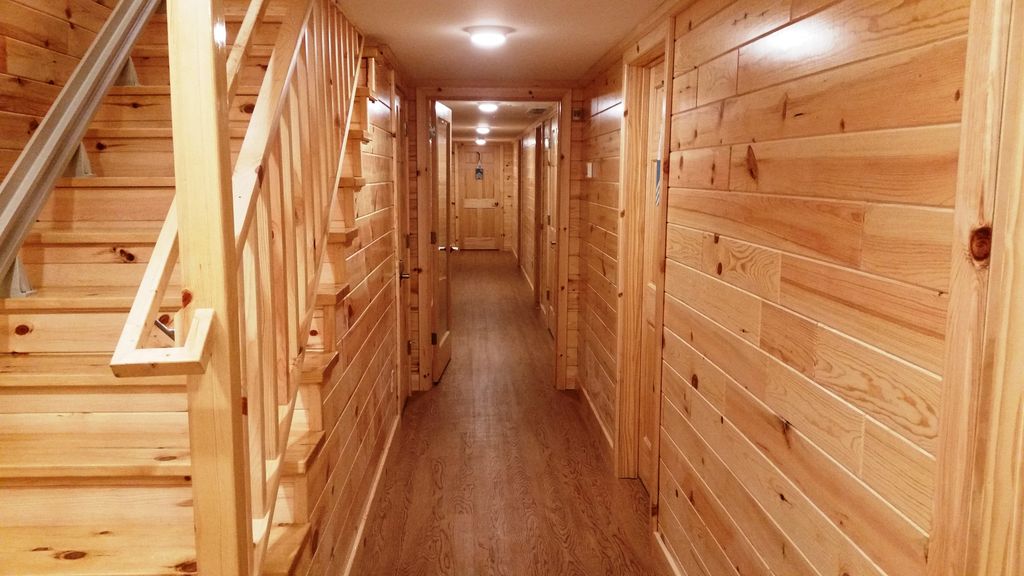 Walk-out level hallway leads to 6 BR-BA suites.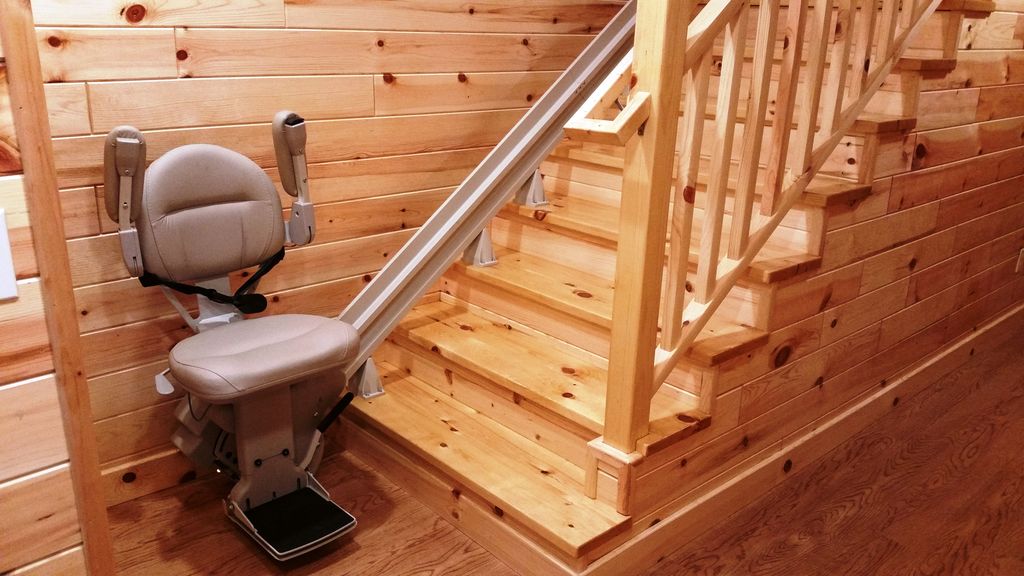 Bruno Chairlift connects both levels. Transport wheelchair on hand for Guests.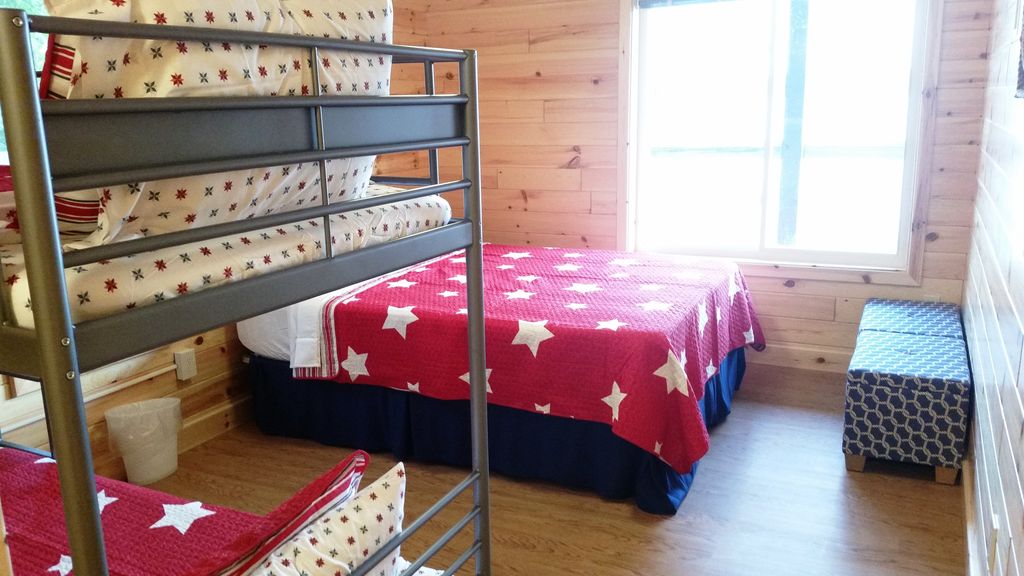 Here's one of the 3BR-BA suites with both Queen bed + Twin Bunkbeds.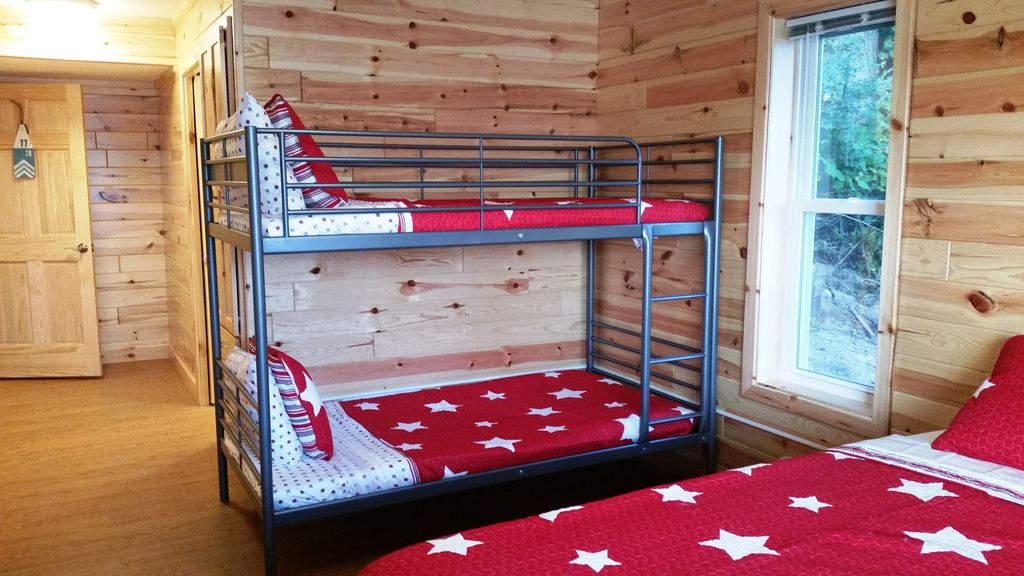 Another view of one of the 3 BR-BA suites with both Queen bed and Twin Bunkbed.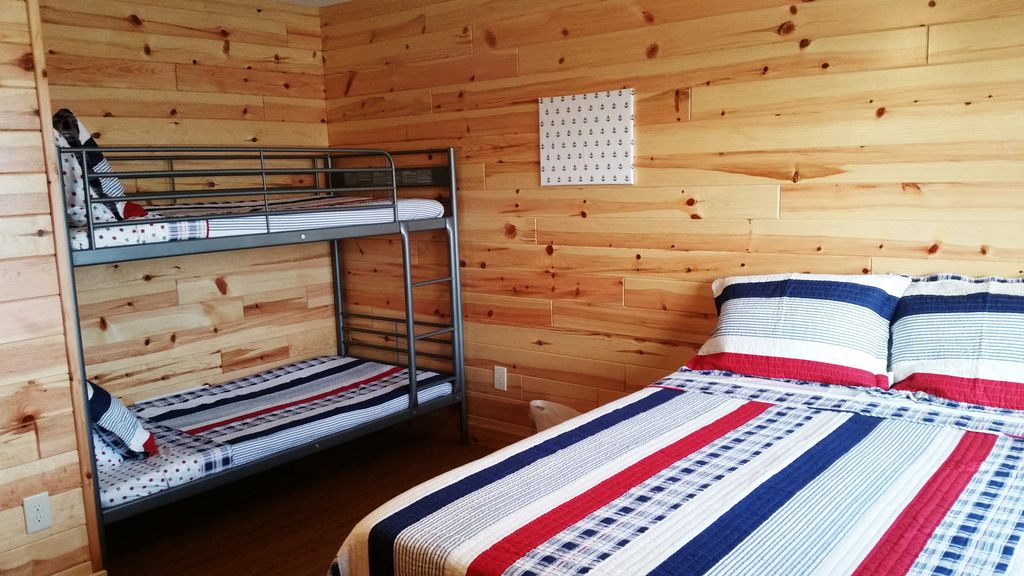 Here's another view of one of the 3 BR-BA suites with both Queen bed and Twin Bunkbed.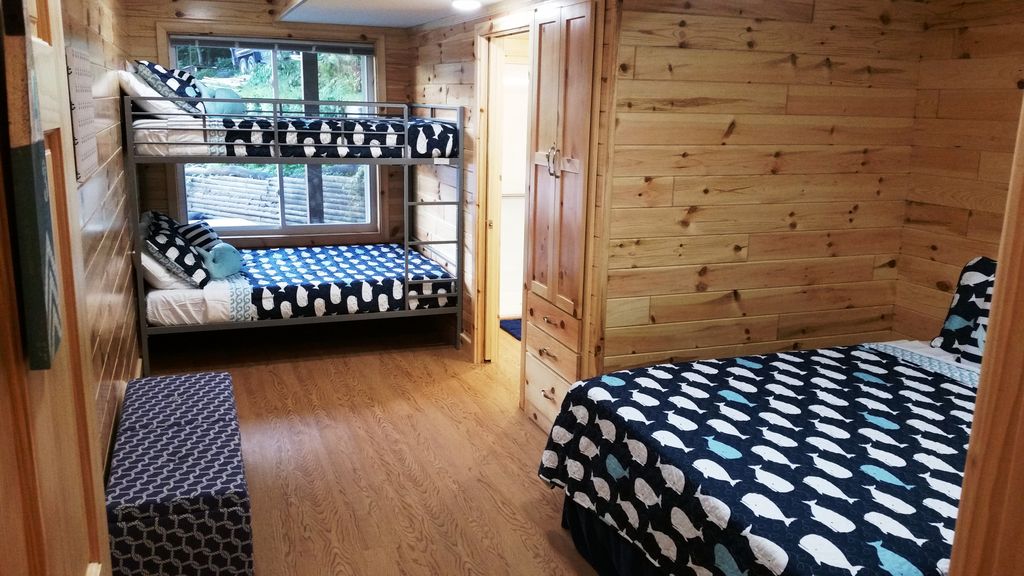 Of the 11 BR-BA suites, 2 of them have a Queen bed, Full Bunkbed + twin Bunkbed (not visible in this photo)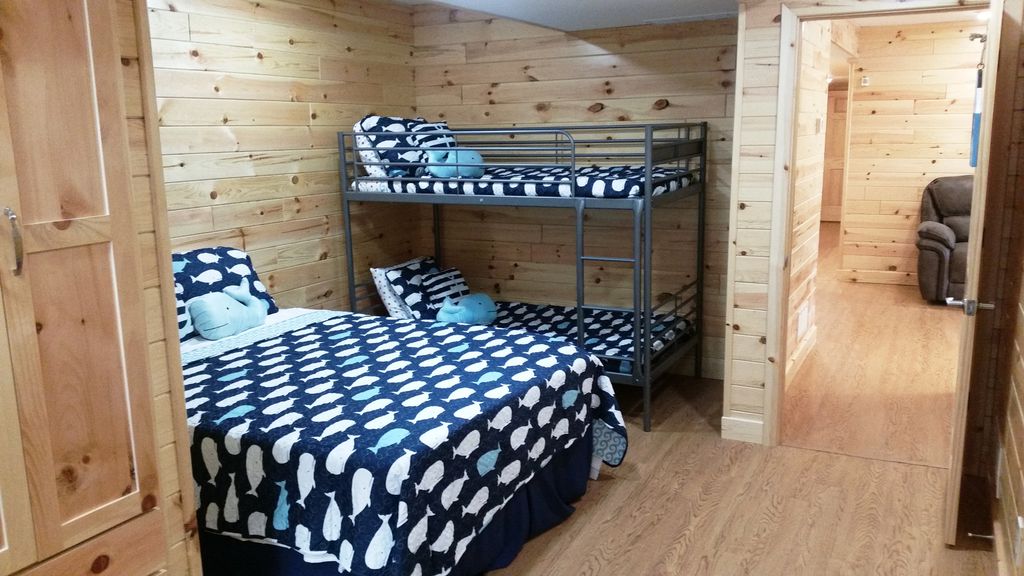 Another view of one of the 2BR-BA suites w/ Queen bed, + Full & Twin Bunksbeds.
Of the 11 BR-BA suites, 10 have large windows overlooking Stone Lake.
The BR-BA suites have built-in dresser drawers in their vacation-size closets.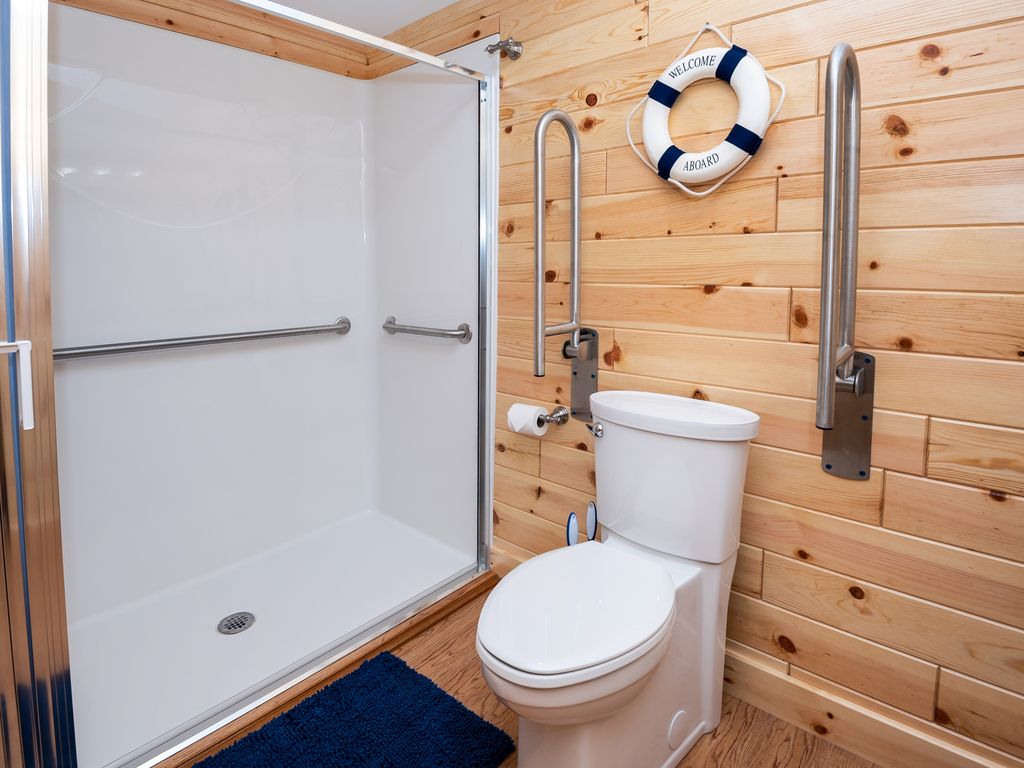 5 of the BR-BA suites are wheelchair-friendly with 30x60 roll-in showers.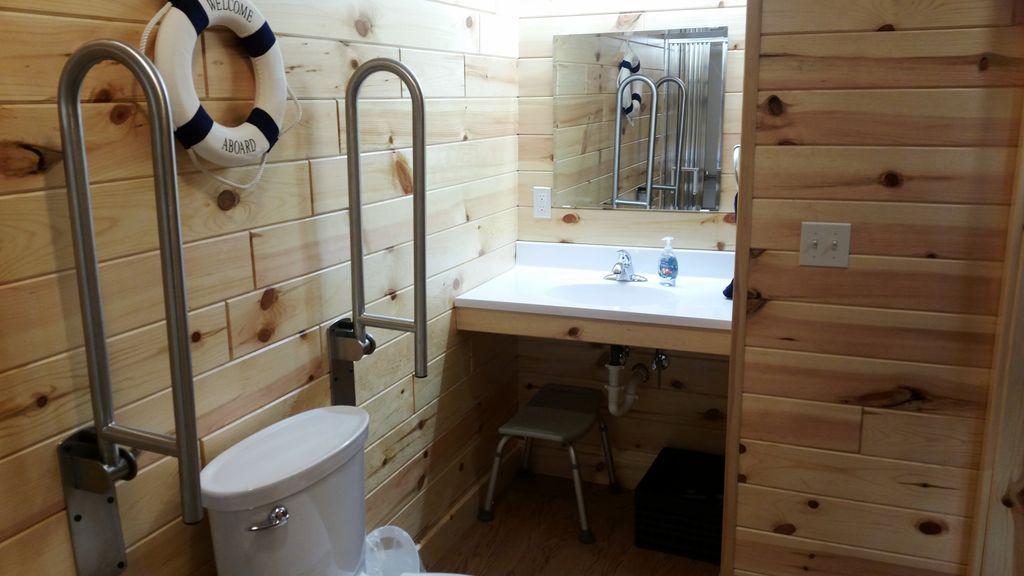 Drop-down sturdy grab bars in the 5 accessible BAs add safety, independence.
The 5 wheelchair-friendly BR-BA suites have knee room sinks, maneuvering room.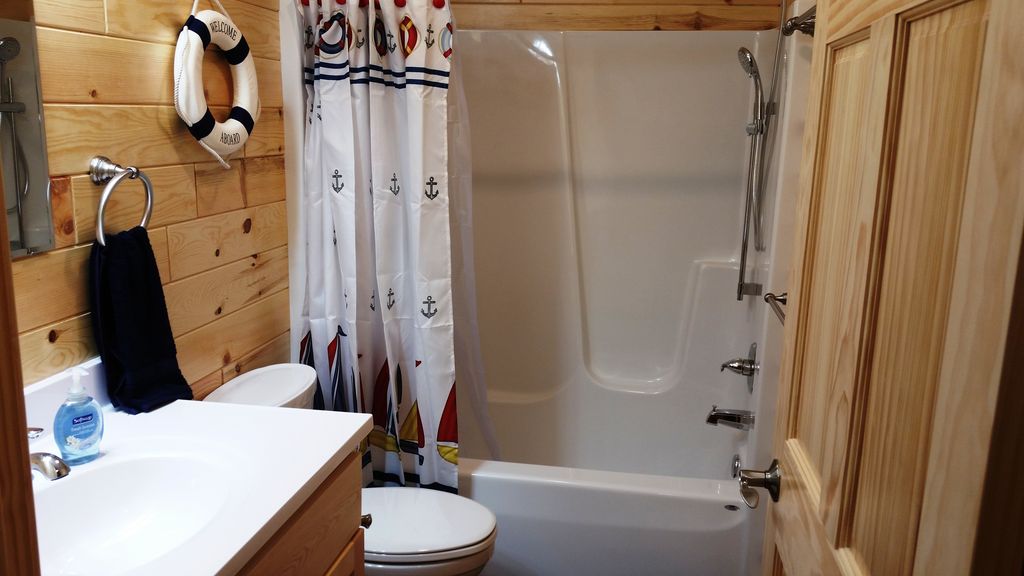 Two of the 12 BAs have bathtub showers, 1 in the BR + 1 in the hallway on main level.
Of the 12 BAs, 4 have corner showers, as pictured.
Of the 12 BAs, 5 have 25-inch vanities with glass shelf above the sink.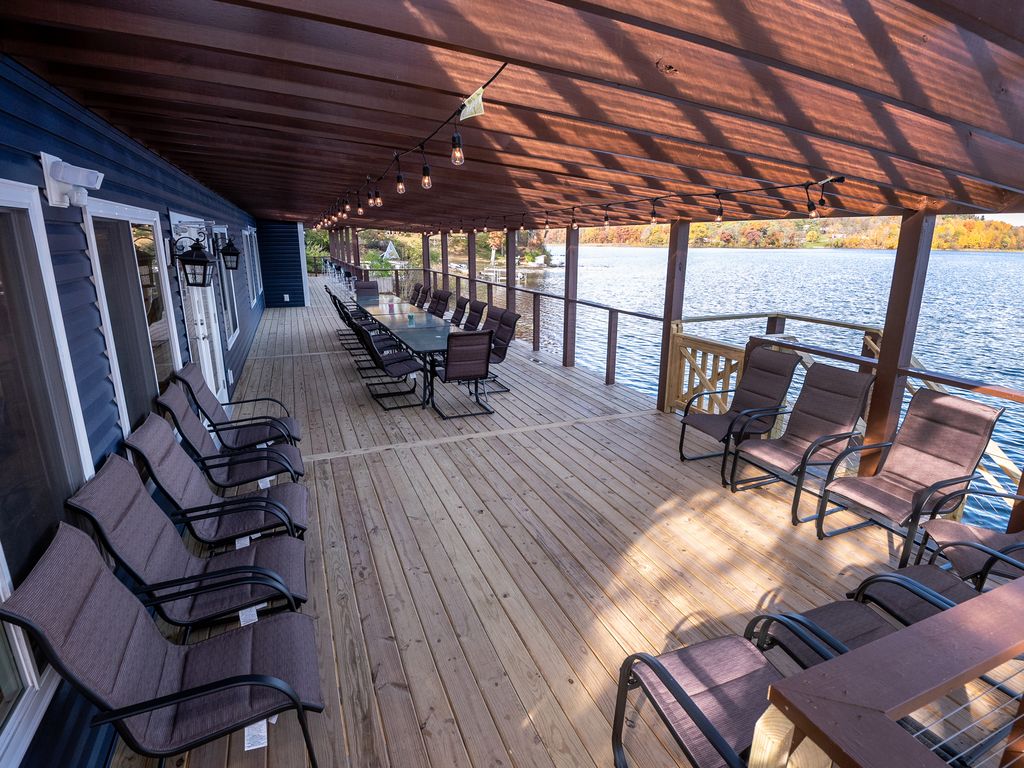 Deck + Patio below have total of 6 tables and 42 spring-action deck chairs.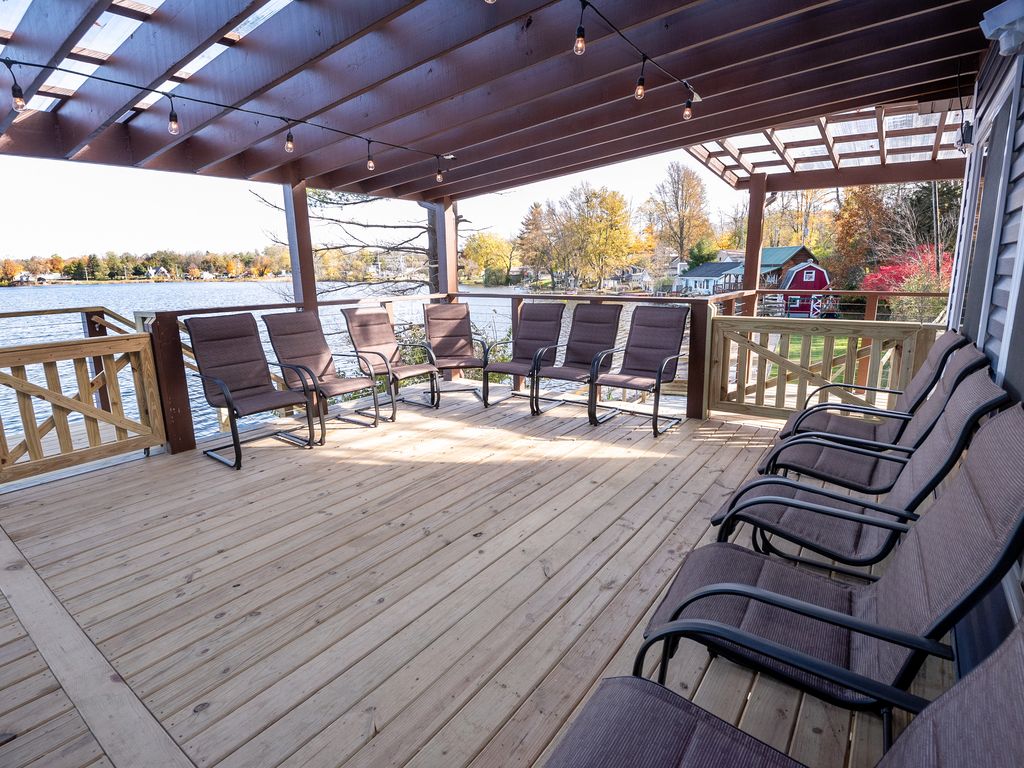 Gates keep little ones safe on the 101-foot long, 1,000+ sq ft covered deck.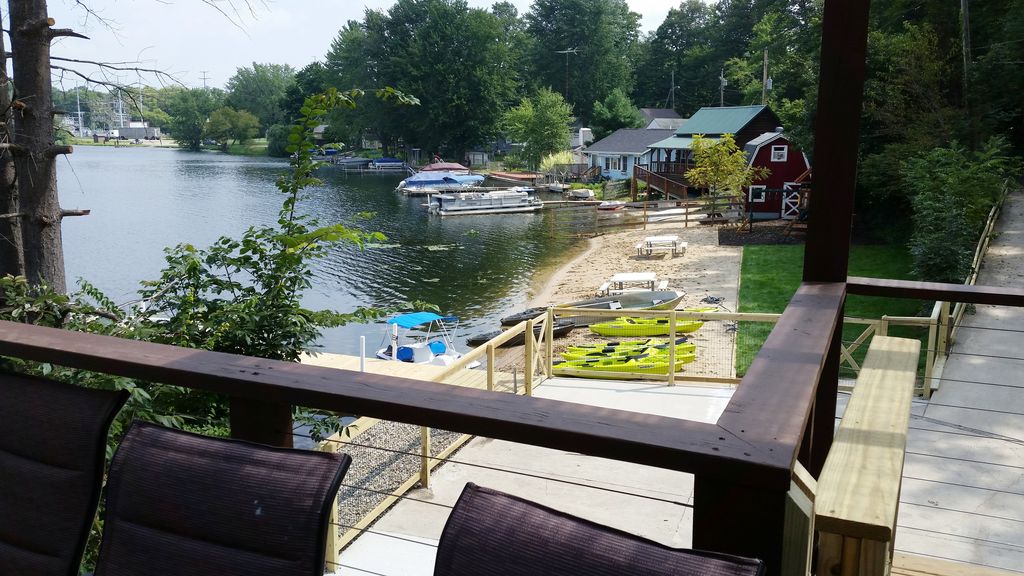 80 ft x 20 ft sandy gentle slope beach, 7 kayaks, row boat w/ lawn play area.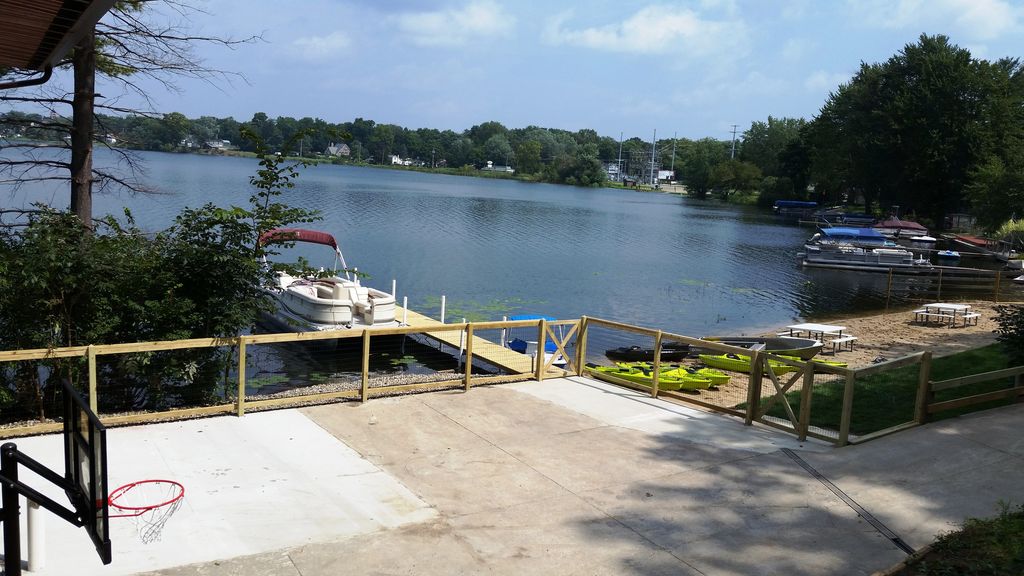 Basketball court big hit. Barrier-free access to beach, dock & pontoon boat!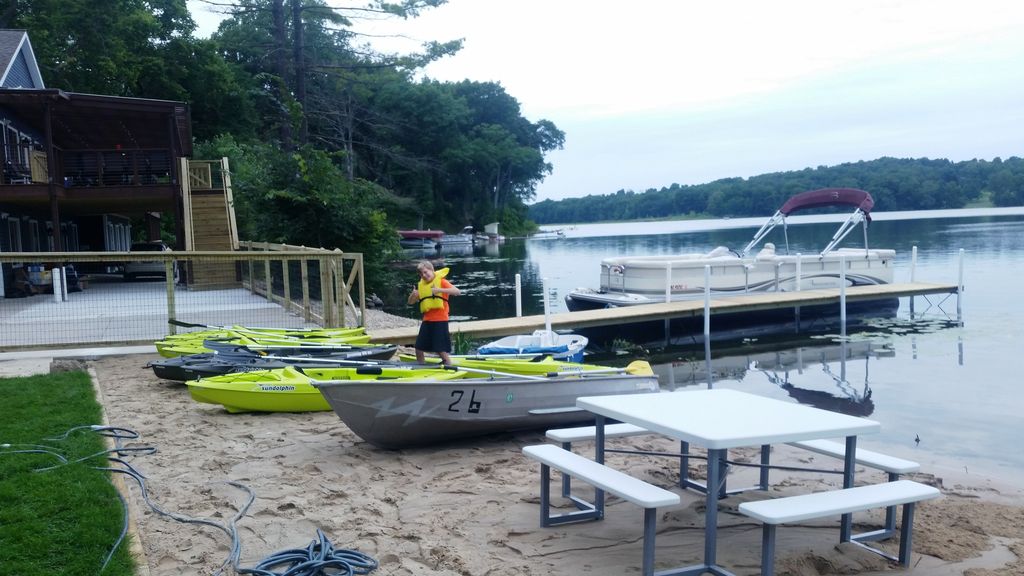 Sandy gentle-slope beach is 80 ft long x 20 ft wide. Kayak racks to come.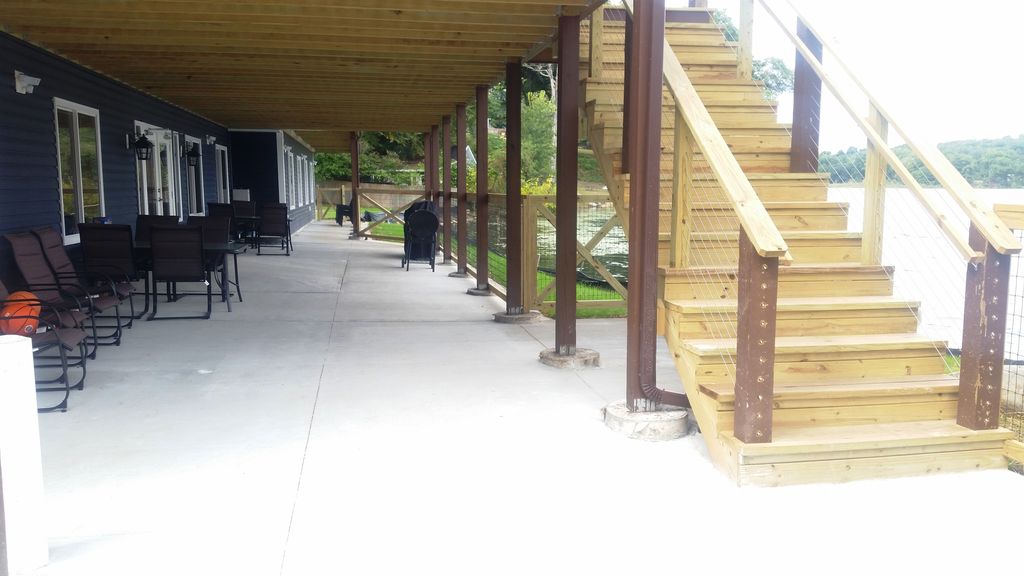 Patio has gas + charcoal grills. Fencing keeps little ones away from the lake.
Lawn play area leads to kid's playscape. Barn has 15+ bikes, adults & child sizes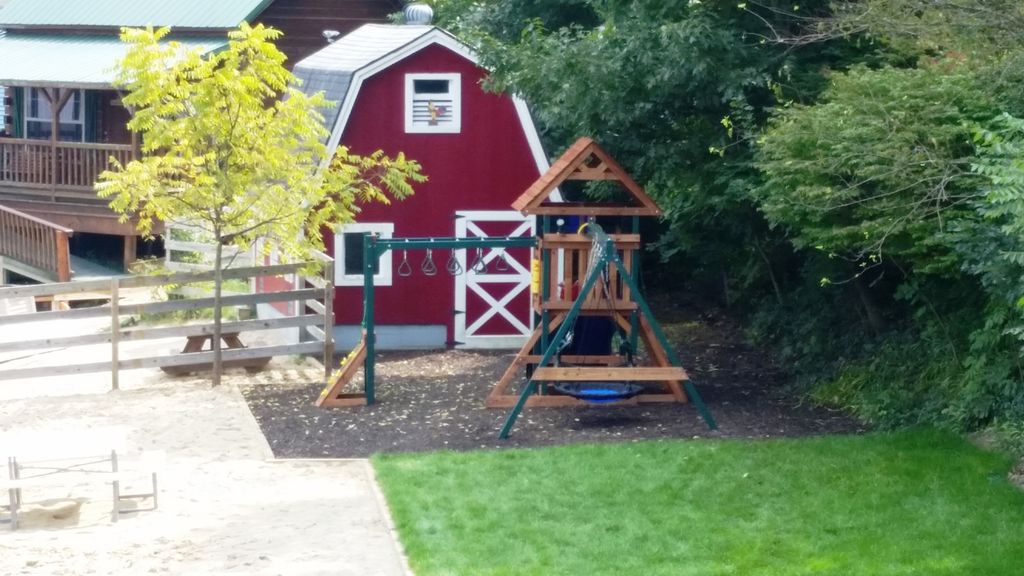 Playscape has 2 lisdes, monkey bars, rock climb wall, swings - in view of deck.
Firepit area great for yard games like cornhole. Shoreline clean-up scheduled!
Safety fencing separates the house from the water...peace of mind for parents.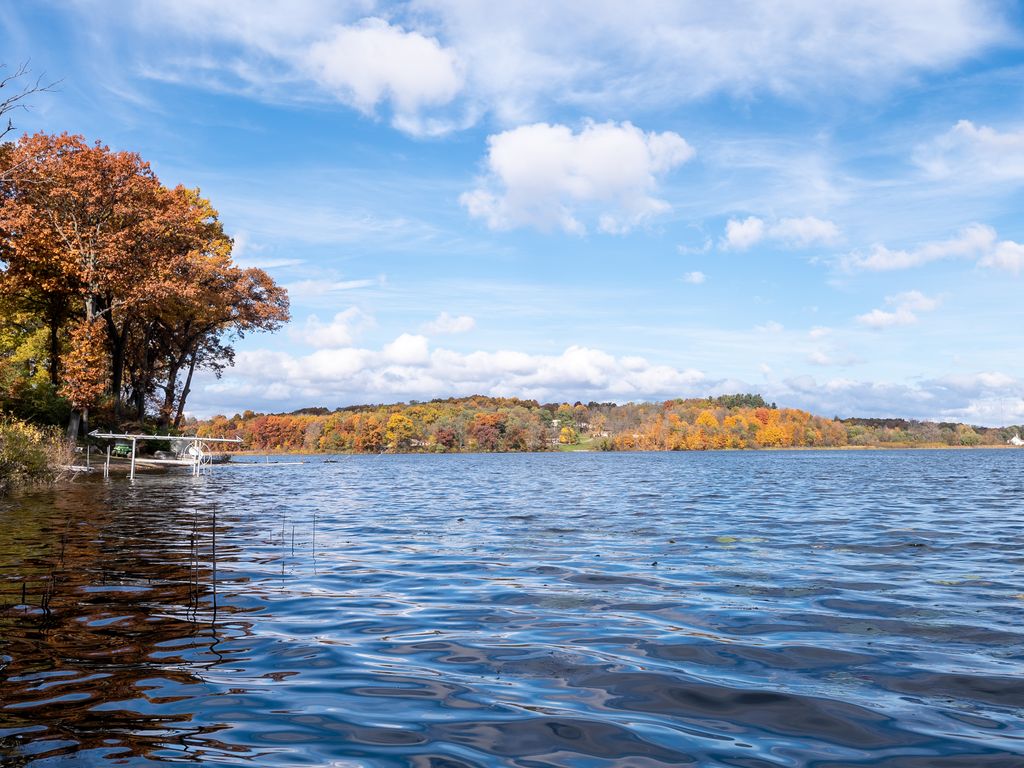 View of Stone Lake from the firepit with gorgeous fall colors.
Fall foliage on quiet Stone Lake is gorgeous...very peaceful and serene.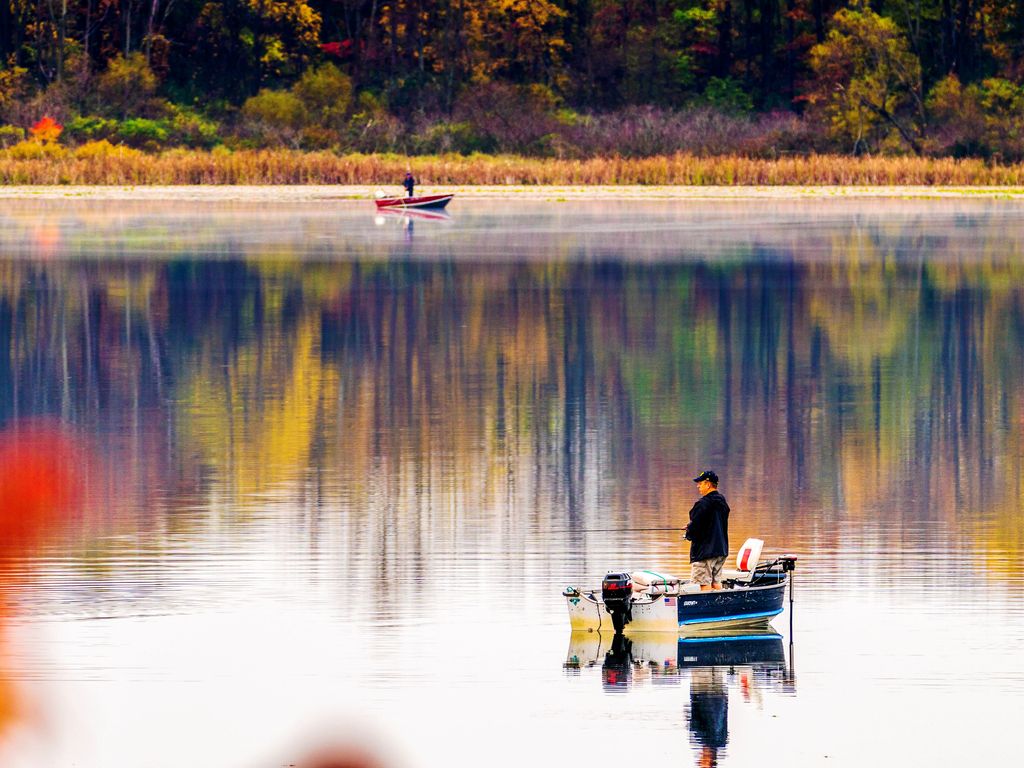 Stone Lake is a quiet fishing and swimming lake - most shoreline is undeveloped.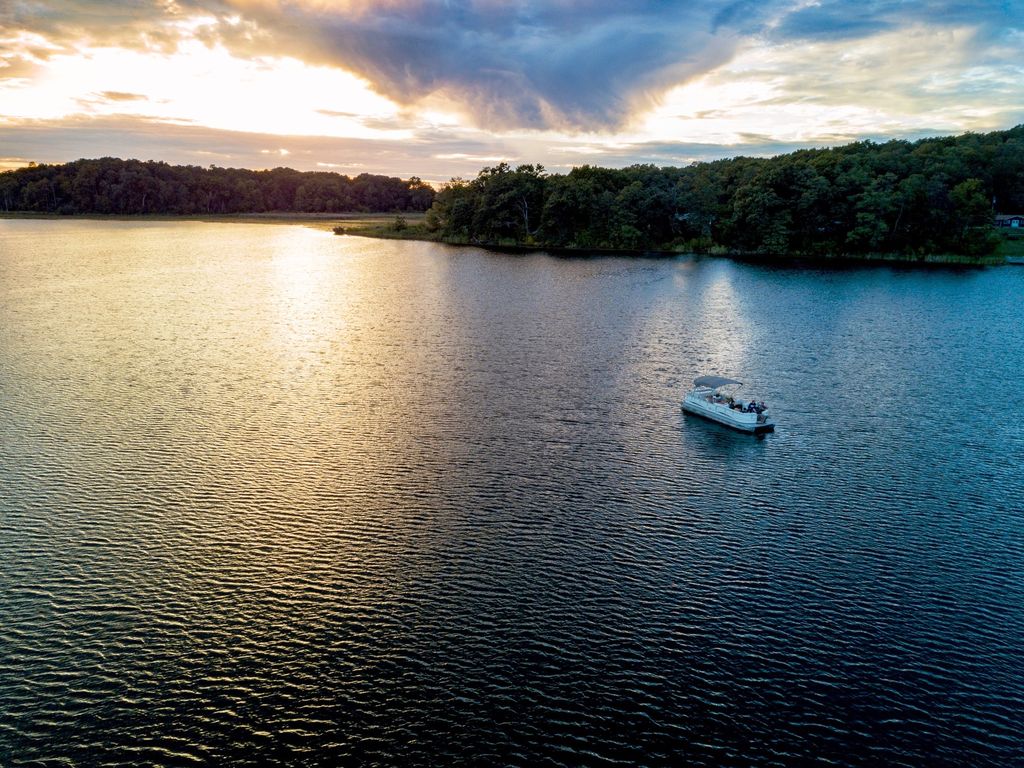 Stone Lake - with Guests enjoying one of our 24-25 foot Pontoon Boats.
Downtown Cassopolis with nearby Stone Lake - close to shopping, food, etc.
One of our favorite shots of Stone Lake...heavenly!
Ask a Question
Owners Ted & Brenda are happy to answer your questions.